Fantastic week-long craft workshop in the French countryside
This is a unique opportunity for beginners or those more experienced to learn a range of crafts and skills you'll take home at the end of your week. Come for a fully-inclusive immersive craft experience at one of the most beautiful houses in France. Work with clay, mosaics, chocolate and wax.
Our 16th century guest house is one of the most highly rated in France and is surrounded by its own 15 acres of pasture and ancient woodland.
Everything is included on this six-day adventure where you'll work alongside renowned artist Colin Underhay at his Fontenay-le-Comte workshop. Colin has exhibited in the UK, France, Germany and Bulgaria and his work has been sold across the world.
This is a unique opportunity to join a small group of fellow crafters and is suitable for all levels – if you've never worked with clay before, now's your chance!
On the third day of your visit you'll stay at the guest house and enjoy a quiet walk or be transported for a visit to a local medieval town, the beautiful Marais Poitevin or 'Green Venice'. On Thursday visit a ceramics workshop where you will broaden your crafting skills and make a pot holder to take home. On Friday try your hand at soap or chocolate making alongside your hosts Sarah, Sarah and Vincent.
All materials, all meals (three a day) and drinks are included, along with a single (double or twin if preferred) room with its own en suite bathroom.
You'll be taken to Fontenay daily after breakfast, be supplied with a packed lunch, enjoy coffee, biscuits and soft drinks all day, and return in time for a swim in our heated pool, a massage or beauty treatment (at an extra cost) and get together to share memories of the day around the dinner table where you'll be offered a four course gourmet meal with wine, beer, cider or soft drinks.
Accommodation will be shared in twin-bedded rooms, or in doubles if preferred, and vegetarian, vegan and gluten-free meals can be offered.
Wherever possible our food is sourced locally with the income going back into the economy, and the land at the guest house has been organic for the past 30 years. Currently we have our own free range chicken and turkeys, have started to produce our own vegetables and fruit, and do all we can to encourage wildlife by keeping bees, placing insect homes, butterfly houses and hedgehog houses around our land, as well as bird feeding stations and nesting boxes.  In 2022 a family of house martins moved into our home and raised five chicks, much to the merriment of our guests.
This is the first course of this nature we've run, and really hope it will appeal.  We plan another for October so, if you can't make this one, please get in touch anyway.
We offer pick ups from Niort railway station, Poitiers or La Rochelle airports at 40€ per car per journey, or for 50€ for Nantes pick ups and drop offs. A bus service is available from Bordeaux to Niort (Flexibus).
We look forward to welcoming you to our lovely home and to some excellent crafting and hospitality.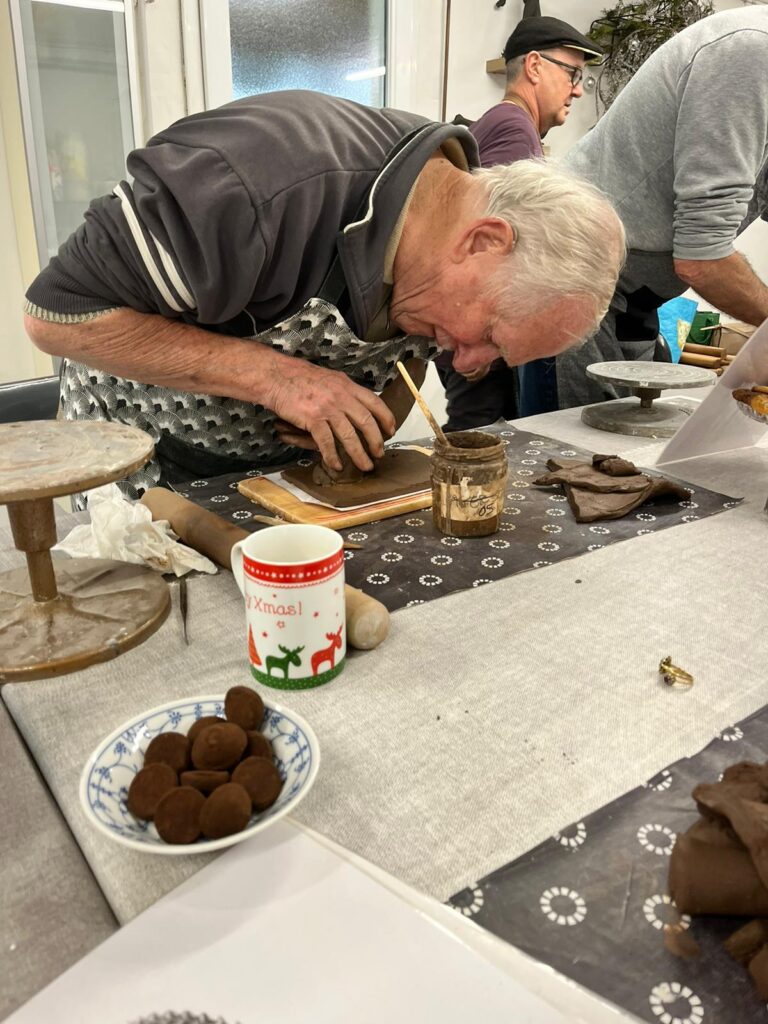 Your week will look something like this
As an introductory offer all this at an incredible 1850€ euro for 6 nights/7 days
Fully inclusive of all craft activities, materials, transport during the week, all meals and drinks.
For all inquires for the craft week, please fill out the form and we'll get back to you as soon as possible.
We'll be happy to answer all of your questions and make sure you have an amazing experience developing new skills at our craft week.
All other information you may need to know
Holidays are 7 days and 6 nights
Group size: up to 10 people sharing double rooms.
How to get here
Arrival by bus
It is possible to fly to Bordeaux and get the Flexibus to Niort. We can arrange a transfer from the bus stop to take you to Le Moulin for 40€ per person per trip. Bordeaux is approximately two hours by bus.
Arrival by car
The satellite-navigation address is simply Le Moulin du Chemin, 79240 Scillé, France Le Moulin du Chemin is 100km (60miles) inland from La Rochelle on the Atlantic Coast of France, between the cities of Poitiers and Niort. Le Moulin du Chemin is a 5-hour drive from Paris on Autoroute A10, exit either 30 or 31. Written directions to Le Moulin du Chemin will be provided on request.
Arrival by Plane
Transfer costs
Poitiers–Biard Airport (40€ per person)
Nantes Atlantique Airport (50€ per person)
La Rochelle – Île de Ré Airport (40€ per person)
Arrival by train
It is possible to reach us from Paris by TGV to Niort railway station.
Transfer to Le Moulin 40€ per person.
About the property
Le Moulin du Chemin is a 16th-century former mill with feature beams and stone walls throughout. The main building is wrapped around a beautiful heated swimming pool area with a BBQ feature. All the rooms are en suite and our rates are for shared accommodation.
Le Moulin is at the end of a no-through lane at the end of a valley so there is little, if any, passing traffic. The loudest noise you will hear is one of birdsong.
The 15 acres of organic pasture and the ancient forest are divided by a bubbling steam with stone bridges, an orchard and special yoga and meditation areas where you will truly learn the meaning of nature.
The venue is surrounded by medieval villages, some wonderful sightseeing, and local markets where you can enjoy locally sourced fruit and vegetables, cheeses, fish and meat.
Accommodation
Check-in Time:
15:00
Check-out Time:
10:00
All rooms are en suite and are full of character – whether they have ancient beams or feature stone walls. Each room comes complete with tea and coffee-making facilities replenished daily. A selection of herbal teas is available if preferred.
Bath and hand towels, swimming towels, a hair dryer, soap and shower gel are all provided.
There's a well stocked guest drinks fridge available 24/7. The water at Le Moulin is safe to drink, but they can offer still and sparking bottled mineral water when preferred.
Pool is heated to between 22°C and 28°C when necessary, and open from May to October.
All drinks and meals are included in this retreat, and we're happy to cater for any particular dietary needs. Vegans, vegetarians or gluten-free diets can all be accommodated, please just let us know in advance.
Optional extras
 Spa treatments
Spa treatments are available at Le Moulin on Thursday only and must be booked in advance. So we can work around your daily activities so don't be concerned about planning.
30-minute massage: 45€
60-minute massage: 85€
90-minute massage: 125€
Manicure or pedicure file, cuticles, apply a clear base: 30-minute 30€
Eyebrow tint or eyelash tint 25€
Reflexology: 60-minutes 85€
Facials: 60-minutes 70€
Special facial to include scrub, mask and massage: 90-minutes 85€. Lift and cleanse facial to include deep cleansing with a scrub and Lumispa, a technology that scrubs and lifts, a mask and massage
Waxing is available on request.
All treatments must be booked a minimum of three weeks in advance and must be paid in cash at Le Moulin.
 What's not included
Food
Freshly cooked mostly organic food, all sourced locally and from Le Moulin and will be one of the high spots of your visit.
Breakfast consists of fresh juices, yoghurt, fresh fruit, croissants, pain au chocolate, toast, French bread, a selection of cheese and cold meats or freshly cooked eggs from the free-range chicken.
Lunch will be a selection of salads, you take your pick, with fresh bread, and will either be enjoyed at Le Moulin or taken as a picnic to the workshop.
Dinner is a four-course meal with a starter, main course, cheese and dessert. It's a leisurely meal enjoyed by the pool, under the pergola, or in the dining room, depending on the weather.
Dishes can range from French classical cooking through to Asian fusion and everything in between. Le Moulin du Chemin is spoilt by having access to locally farmed beef, veal and pork, and wonderful seafood from the Atlantic coast. If you have a favorite let them know before you arrive, and we will try to accommodate you!
The following meals are included:
Breakfast
Lunch
Dinner
Snacks
The following drinks are included:
Water
Coffee
Tea
Soda
Wine and beer
Detox juices
The following dietary requirement(s) are served and/or catered for:
Vegetarian
Vegan
Gluten Free
Organic
Regular (typically includes meat and fish)
Pescatarian
Seafood
Lactose Free
Please let us know your requirements before you come.